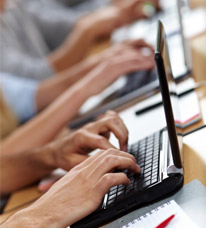 this page is a work in progress
Use of technology
E-Mail Accounts
All Lakeview College of Nursing students are assigned an e-mail account upon entry into the College. E-mail should be accessed through the Lakeview College of Nursing web site, www.lakeviewcol.edu. Simply click on "My E-mail" in the uppermost menu. For the Login ID, use your first initial and last name, all in lower case (e.g. jdoe for Jane Doe). For the password, use the letters "lcn" followed by the last six digits of your social security number.
Please note: This e-mail account, while similar to the Edvance360 for on-line courses, is a separate account. Once you have logged into your e-mail account, you can change the password to something of your own choice. Please be aware that e-mail through this account will be the primary communication mode from faculty to students. If you have any trouble with the system, please notify IT Coordinator, 217-709-0927.
ExamSoft
ExamSoft is the product Lakeview uses for testing. Our unique url is http://www.examsoft.com/lakeviewnursing  To visit their Support page go here: http://support.examsoft.com You can search for PC/Mac requirements in the knowledge base. A shortcut to that topic is here.
The login for ExamSoft is your lcn username and password you use for lcn email.  To login to SofTest you will need to add lcn\ before the username. Example: the ExamSoft website username would be jdoe password: lcn123456  but SofTest username would be: lcn\jdoe password: lcn123456
turnitin
Lakeview College of Nursing has taken steps to prevent plagiarism by using a plagiarism prevention tool called turn-it-in. Your instructors will be giving you information on how to enroll in their course via www.turnitin.com. A Student User Guide can be found at http://www.turnitin.com/en_us/training/student-training  it will give you information on how to create your user profile, submit your paper online and much more.
Any matching text they find is detailed in an Originality Report sent to your class portfolio. You will be able to view Originality Reports only if your instructor has given you permission to access them.
Wireless Internet Access
Lakeview College of Nursing has installed several Wireless Access Point (WAP). In order to use the service you will need your own laptop computer or wifi enabled device and it will need to have a built-in WiFi or you will need to install a WiFi network card (802.11b or 802.11g compatible). Lakeview does not provide wireless cards. You should also have a charged battery; electrical outlets are available but limited.
No special encryption settings, user names, or passwords are required.
Printers are only available in the computer lab, therefore you will need to email documents to yourself or use a flash drive to save and print documents there.
You must have up to date anti-virus protection. It is solely the responsibility of the wireless device owner/user to provide anti-virus protection, and to configure their laptop settings to provide the appropriate security settings to control access from other wireless devices within the building and the internet itself. Lakeview College of Nursing cannot and will not take responsibility for damages incurred for incorrect, insufficient or incomplete security settings; or lack of adequate or up-to-date virus protection. Wireless users assume all risks in this regard.
EIU Campus Wireless Internet Access
More information on the EIU Campus Wireless Internet Access through the EIU website, http://www.eiu.edu/housing/computers.php.