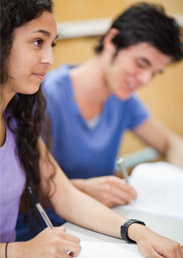 Illinois Articulation Initiative
Lakeview requires 60 credit hours in general education and prerequisite courses. At least 45 credit hours of the required prerequisite courses should be complete at the time of application and all 60 hrs. must be fulfilled prior to beginning the nursing program.  All prerequisite coursework must be indicated on an official transcript before students will be able to begin the nursing program.                   
Please click the appropriate link below to view a checklist of required general education/prerequisite courses.
It is necessary to fulfill the majority of this coursework at another institution and then transfer credit hours to Lakeview.  
Please be advised that additional coursework may be required as some institutions may require prerequisites prior to enrolling in required courses listed.  Furthermore, due to varying credit hours for transfer courses, students may be required to complete additional coursework to fulfill the 60 credit hour of general education/prerequisite requirements. 
All courses must be completed with a grade of "C" or above.  Completion of a minimum of 60 credit hours of general education and prerequisite courses and 60 credit hours in nursing, totaling 120 semester hours in accordance with the curriculum plan, is required in order to earn Lakeview's BSN Degree.
---
Illinois Articulation Initiative (IAI)
Lakeview College of Nursing recognizes the ease in transferability with courses holding the IAI status.  LCN elective requirements are easily identified and accepted as they are categorized through the Illinois Articulation Initiative. 
Students transferring from colleges and universities within the state of Illinois may check www.itransfer.org or go directly to http://itransfer.org/courses/worksheet.php for transfer equivalencies of general education requirements.  Students should also verify information with the individual college or university for which they are planning to pursue coursework.
Courses taken outside of Illinois or courses that are not identified as IAI should be verified for transfer by contacting a Lakeview College of Nursing admissions representative.
---
College Level Examination Program
In order to honor and recognize student's prior learning, Lakeview College of Nursing cooperates with the College Board in the program referred to as CLEP.   Lakeview College of Nursing accepts CLEP Examination Credit for equivalent general education and prerequisite coursework. Credit may be awarded for CLEP Examinations depending upon the score earned on the examination and other factors as indicated below.
A student who has earned a score of 50 or higher for performance on the CLEP Examination, taken before or after admission to degree candidacy, may receive credit as determined by the Director of Enrollment/Registrar. Please visit The College Board for more information regarding CLEP Test Centers and available CLEP Examinations.
Limitations of credits earned through the CLEP Examinations are as follows: (1) duplicate credit in the same subject in not awarded in any case; (2) the total number of credits that may be awarded is limited to 30 credits. Credit awarded in this manner does not affect a student's grade-point average. A grade of "CR" will be recorded on the student's transcript.
Once the preliminary coursework (outlined above) is complete (either through another college or university or appropriate score on CLEP exam) and students gain admission into the Lakeview College of Nursing program they can begin coursework at LCN through one of these tracks.
---
Science Course Time Limit
There is a time limitation on the prerequisite science courses needed for the nursing program. Anatomy and Physiology I & II, Chemistry I & II, and Microbiology MUST be taken no more than five years before the start of the nursing program unless the student is currently a licensed RN.
Please note the following consideration will be given to two-part courses (e.g. Anatomy & Physiology Part I and Anatomy & Physiology Part II as well as Chemistry I & Chemistry II), as long as one of the two-part courses is completed within the last 5 years, the credits for the other part of the course will be recognized as long as it meets other transfer guidelines.
If a student has prerequisite science courses that are not recognized due to time limitation they will need to either repeat the course or pass a college proficiency test. For more information regarding our proficiency options, please contact our admission's office. There is a cost associated with proficiency exams.
---
General Education Exemption and Prerequisite Requirements for Those with Previous Bachelor's
Students who have previously completed a bachelor's degree at another institution of higher education will be exempted from completion of any unsatisfied general education requirements. Any outstanding general education course requirements will be waived, as long as the cumulative grade point average for the completed degree is 2.5 or higher.
Nonetheless, specific prerequisite courses must be completed with a grade of C or better. Additional coursework may be required as some institutions may require prerequisites prior to enrolling in required courses listed. Please be advised that there are financial aid implications if any of these courses are not successfully completed prior to beginning the nursing curriculum. If coursework is incomplete students will remain at sophomore status in consideration for student loans.
The following prerequisite courses are required:
Anatomy & Physiology I or Human Anatomy (4 credits with lab)
Anatomy & Physiology II or Human Physiology (4 credits with lab)
*Chemistry I or Inorganic Chemistry (4 credits with lab)
*Chemistry II or Organic/Biochemistry (4 credits with lab)
Life Span Development or Human Growth & Dev. (3 credits)
Medical Terminology (1 credit)
Microbiology (4 credits with lab)
Nutrition (3 credits)
*Statistics (3 credits)
Additional Requirement: Current CPR Certification. Certification must cover both choking and CPR for infants, children and adults including two-rescuer for children and adults. May take college course for credit or gain certification through American Heart Association or American Red Cross or another organization.
* Indicates courses offered on Lakeview's Danville Campus. You have the option of taking these (*) courses at Lakeview in Danville or at another institution. All coursework fulfilled at another institution must be indicated on an official transcript. Transcripts should be mailed to the attention of:
Connie Young, Director of Enrollment/Registrar
Lakeview College of Nursing
903 N. Logan Ave., Danville, IL 61832