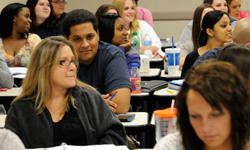 Lakeview's BSN degree will give graduates the opportunity to:
Take the NCLEX-RN exam for licensure as a registered, professional nurse.
Become the preferred candidate for entry-level nursing positions
Achieve the beginning educational requirement for many management-level positions
Form the necessary foundations for opportunities at the master's or doctoral level
We take pride in creating a nurturing, caring environment for our students to adapt, learn, grow, and flourish in the evolving role of the professional nurse. This type of environment can enable you, the student, to make the transition from learning to pass a test to acquiring skills and knowledge which enable you to critically think about how best to care for your clients, their families, and the community at large.